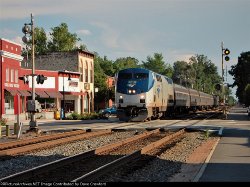 Welcome to the RRPictureArchives.NET contributor site of Dave Crawford.

I have always had a fondness for trains. I grew up in Virginia where the N&W and the C&O Railroads intersected. My family took the George Washington to Washington for Thanksgiving several times in the sixties. A great experience! As a young adult, I lived on the railroad tracks in Ashland, Virginia. The main north-south corridor on the east coast. There were plenty of trains to watch. I still live close to Ashland in the Richmond area, in close vicinity to a part of the old C&O Piedmont Sub-division. I have always loved train photography and I figured that this is a good time to start. I hope to take photos at a variety of locations, but I know I will venture to Ashland whenever possible. There are just too many trains passing by on a daily basis. I hope to get better at this as I go along, but I am having fun and I hope you enjoy my Photos!

You may browse my collection of pictures via the menu located on the left hand side of the page. I hope you enjoy the collection and thanks for stopping by!
Note: This site is best viewed in Internet Explorer 6.0 or above.
Select one of the links from the menu on the left to begin browsing the collection.